UNTITLED ART, MIAMI BEACH 2022
Booth Number 400
30 Nov. - 4 Dec. 2022
For Untitled Art 2022, Galerie KORNFELD is pleased to present the works of Giorgio Celin (1986 in Barranquilla, Colombia), Nick Dawes (British-1969 in Johannesburg, South Africa), Rusudan Khizanishvili (1979 in Tbilisi, Georgia), Sally Kindberg (1970 in Stockholm, Sweden), Sebastian Maas (1984 in Aachen, Germany) and Ivana de Vivanco (Chilean-Peruvian-1989 in Lisbon, Portugal).
The exhibition brings together the colourful and playful yet politically charged works of Chilean-Peruvian artist Ivana De Vivanco alongside the bold and mystical scenes of Georgian artist Rusudan Khizanishvili, the re-contextualised fragmented compositions of the German artist Sebastian Maas, and the marginalised figure depicted in Giorgio Celin's work. The artists explore themes of identity and history in brilliant color and energy. The overlapping abstract color fields of British artist Nick Dawes meet the witty paintings of Swedish artist Sally Kindberg as they both reimagine scenes of the quotidian life in new ways.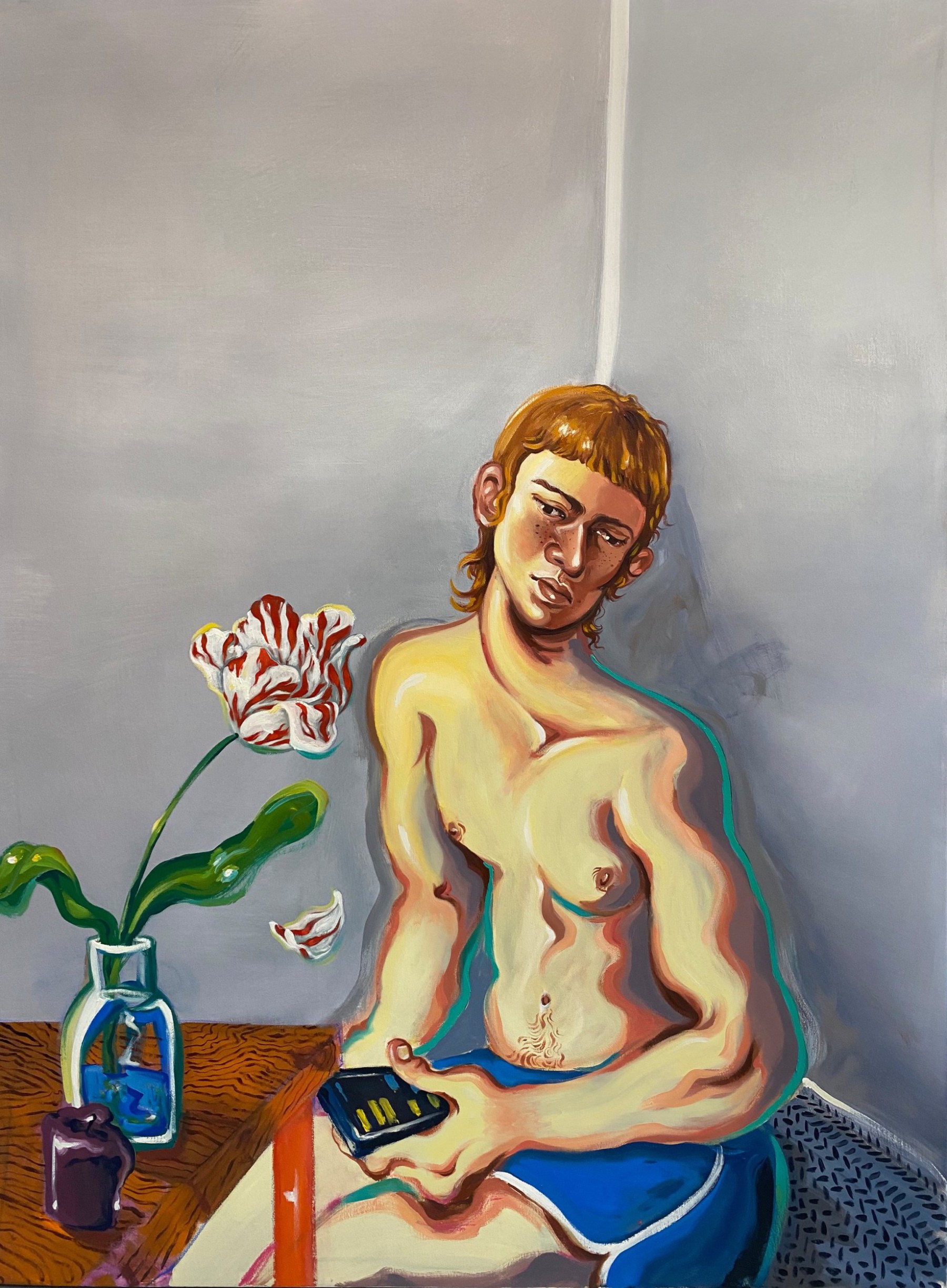 Giorgio Celin's works are characterised by the people he paints. Mostly characters that are marginalised and ostracised by society portraying an intersectionality of queerness and immigration. Raising questions about belonging and seclusion.
In "l'abitudine di restare" (the habit of staying) he portrays a male looking figure sitting pensive in a room, shirtless, his hand holding a smart phone where one can see a dating app open. The solitude this figure carries while still being in digital contact with a possible stranger, is a relevant and relatable struggles in todays youth.
Giorgio's traditional and romantic way of painting mixed with the modernity of current brands, hairstyles, outfits and technology, plus the unique sentimentality and humanity the characters express in his works, are what make the pieces so strong, current, but at the same time timeless.
The unified flatness of the paintings of Nick Dawes present us with various possibilities of distance - of nearness and farness. The works themselves start out as small drawings and sketches, based on texts, appropriated from driving instruction manuals and other sign-like quotidian objects.
The structure slowly dissolves as the colours begin to penetrate and pour, blurring the boundaries between functionality and abstraction: once solid components flowing into a new vocabulary of fluid entities. Working on unprimed canvases, the artist pours heavily thinned industrial oil paint directly onto his surfaces. As the dierent colour fields begin to overlap in a kind of expanded watercolour aesthetic, the oil separates from its core, creating beautiful atmospheric halos around each shape.
Within her works Rusudan Khizanishvili invites the viewer into multilayered portals of intertwined figures and animals who act as symbolic door handles between cultures, nations, times and identities. For Rusudan this means an investigation into our innate individuality and the human interconnection, explored through myths, the ancient connection towards nature, transformation, rebirth the intuitively crafted compositions, the theatricality and the innate individuality and the body. The artist experiments with perception and dimensions her symbolism sometimes hidden, challenges the viewer to observe carefully. Her creations are subjective. She balances between Georgian culture, which is so rich in traditions, and the conceptually driven contemporary discourse on representation and its functions. Her colourful configurations of the natural world help us to connect with our most intrinsic spiritual selves.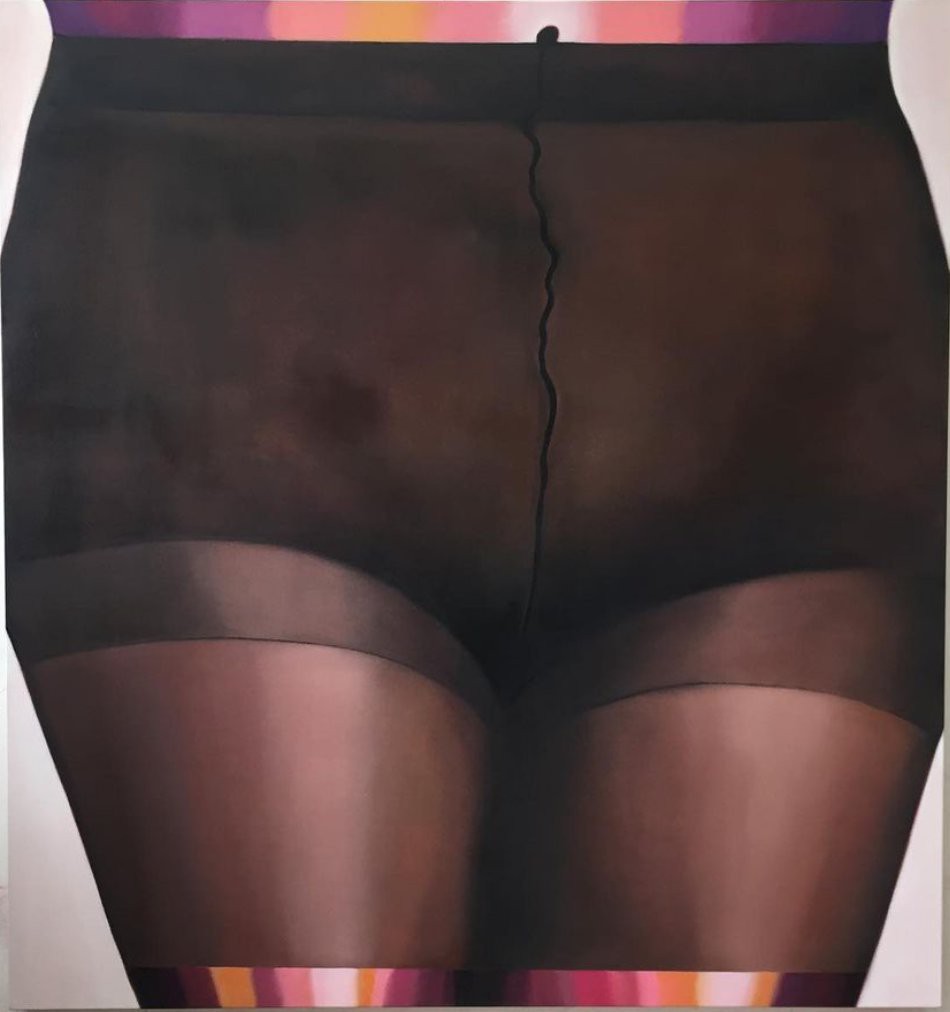 Sally Kindberg's work plays on the notion of the tragicomic in a society, combining at once both civilised and ridiculous elements of everyday life. Her humorous approach enables her to touch upon a variety of unsavoury topics, giving her paintings a simultaneously whimsical and seductive air. As flatness meets almost three-dimensionality, the double-take interaction with the works leaves the viewer wondering where the predominant figuration ends and abstraction begins. Connecting threads of contemporary culture, Kindberg's surreal paintings comment on our daily confrontation of poignant and at once basic aspects of our everyday lives.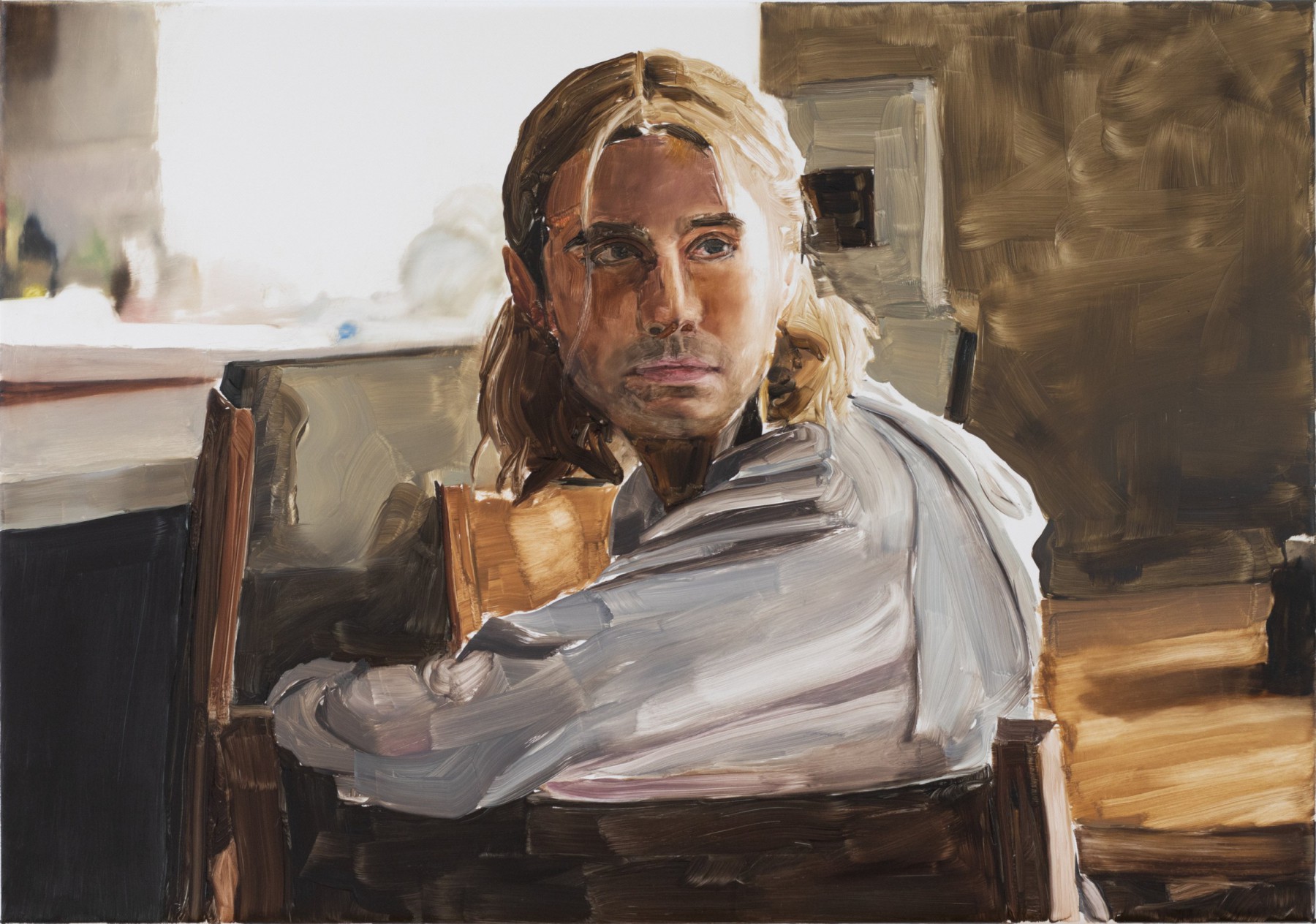 The works of Sebastian Maas emerge from a variety of different otives, which come together in a collage-like composition, with re- contextualising fragments. There is an extreme contrast between the different motives and their setting, creating complex pictorial spaces through carefully curated compositions. They result into an unusual harmony, which captures the viewer into Maas's multiverses, where precision meets fluidity. Through his self- portraits the artist explores the topic of gender in a series of works where his face is transposed into various female figures. This series could be an indicator for raising questions on gender identity, while also questioning, if the faceless females, depicted in the art works, are wearing a mask in the shape of the artists face in a more satirical manner. This ambivalence and the coming together of contrasting subjects are what characterises Sebastians Maas's inventive and playful pieces.
Ivana De Vivanco presents us with works, where she challenges the viewer's preconceived notions of gender, colonialism, Western-history and power. She does so through complex and sometimes subtle scenes, which contain a variety of metaphors and sociopolitical references. The aesthetically rich atmosphere inspired by the Latin American Baroque is mixed with her lively color palette and her unique style. Her complex narratives reference both (art) history and literature as her paintings in many ways aim to rewrite the history of marginalised groups such as women and cultures, oppressed by colonial authorities. Her theatrical stagings unfold an emotional intensity through shrill contrasts and sophisticated compositions, which lend emphasis to her artistic concerns.
Trained as a photographer, Hubertus Hamm departs from the beaten track of classic photography, often even forgoing the very medium in which he was schooled. However, his artistic approach moves away from classic photography, reflecting on modalities of the image by exploring and transcending the limits of the medium in terms of three-dimensionality and materiality.