BRUCE MCLEAN
Black Gardens, Minimal Interiors and Some Ceramics
Galerie Kornfeld is delighted to announce an exhibition of works by Scottish artist Bruce McLean, one of the most important figures in British contemporary art. The presentation will focus on his experience over the past year, embracing the spring colors and a return to nature in a new series entitled "Minimal Interiors" and new ceramic works.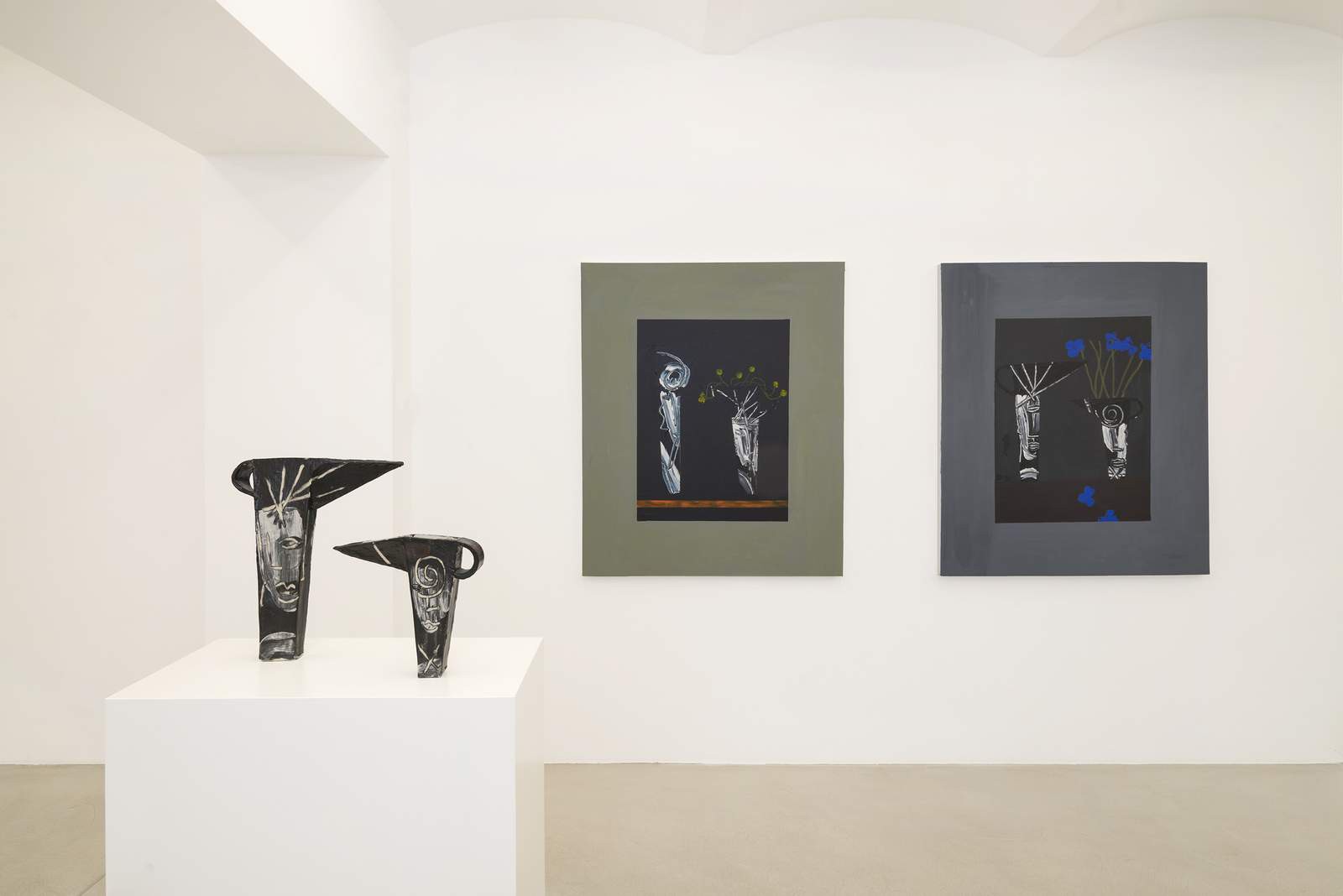 Nature and the universal unity of all matter is an abiding theme for Bruce McLean. However, these are not simple representations of nature. McLean regularly adds collage and hand-painted motifs to his work, and his monoprints are often produced on wood or other surfaces in addition to paper. With his aptitude for so many different mediums, he uses formal and conventional artistic language and constantly seeks to challenge the traditions of art.
Allusive of his most recent exploration of the garden theme in Future Garden works – based on the Spanish gardens very familiar to the artist – the series Twig Arrangement in front of Garden Arrangement reveal McLean's enduring interest in sculptural ideas. The sculptural is always fundamental to his art, which brought the artist to a series, entitled Vase with Twig Arrangement, depicting his ceramics in an interior.
McLean's paintings are formed from a multitude of different techniques and materials. In the foreground, the twig arrangements appear to reference the bold cut-out shapes of Henri Matisse, but the modern master's act of laying colour to canvas is instead deconstructed and subverted – a piece of aluminium foil attached to the painting becomes a leaf or petal that in one case drops on to the tabletop. A constant investigator, he examines the possibilities and qualities of reflected colour and light.
BRUCE MCLEAN
Born 1944 in Glasgow, McLean is a Scottish sculptor, performance artist, and painter. He studied at Glasgow School of Art from1961 to 1963, and at Saint Martin's School of Art, London, from 1963 to 1966. At Saint Martin's, he studied with Antony Caro and Phillip King. McLean was Head of Graduate Painting at The Slade School of Fine Art London.

His painting has consistently won critical acclaim across the decades, from winning the John Moores Painting Prize in 1985 to inclusion in the seminal exhibition, A New Spirit In Paintings at the Royal Academy in 1981.