24 April - 23 June 2023
Mon - Fri, 1 - 6 pm
Sat 11 - 5 pm
Guardini Galerie
Askanischer Platz 4, 10963 Berlin
Kornfeld Galerie Berlin and Galerie Anita Beckers (Frankfurt / Main) together with the Guardini Foundation proudly present the exhibition "The Drunken Boat" by italian-american multi-media artist Federico Solmi at the Guardini Gallery.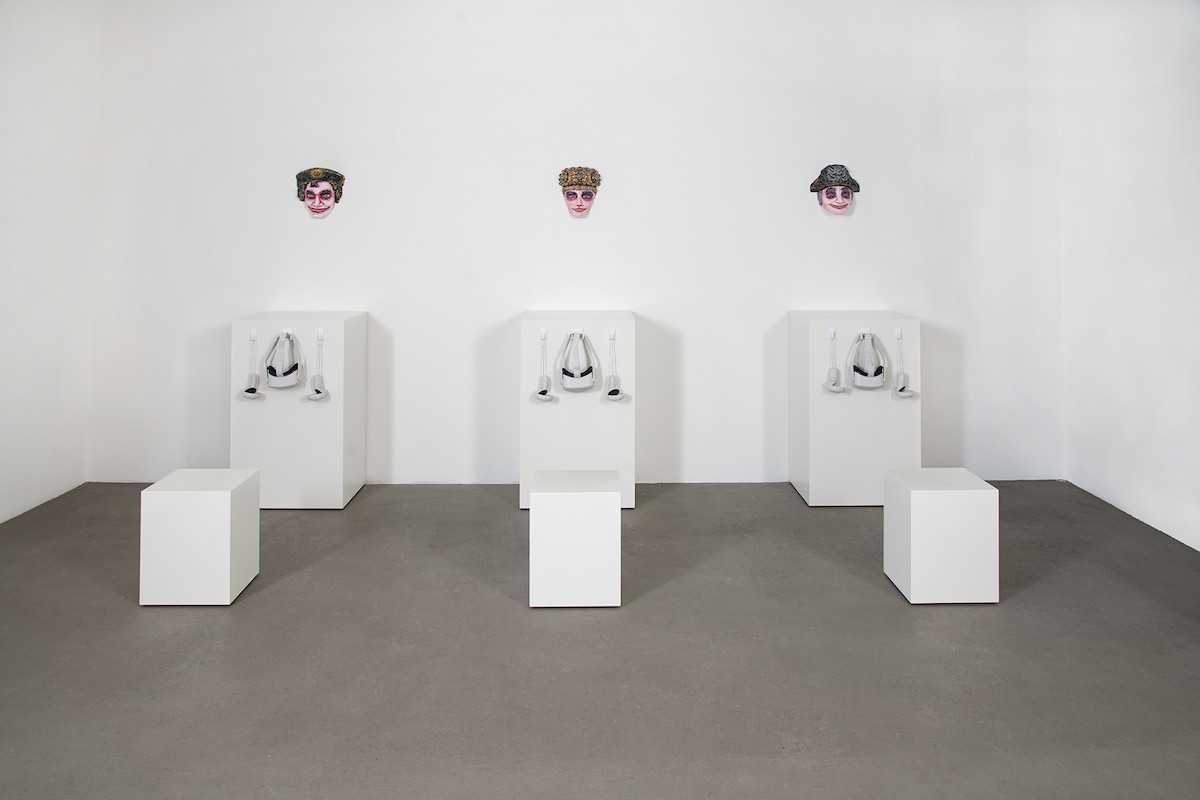 In Solmi's work, painting and video art interact in surprising media harmony. Without the struggle about genres, and the competition between classical art techniques and digital technology, space emerges for the existing potential to unfold. 3D- and video game technologies interact hand in hand with expressionist painting and reveal remarkable visions of the world that burn themselves into the beholders' subconscious.
Federico Solmi Interview at Guardini Galerie Berlin
Federico Solmi, The Bacchanalian Ones, 2021, Virtual Reality Experience with three unique hand-sculpted masks (Theodora, George Washington, and Colombo)
Curator Larissa Kikol: "What are fairytales if they don't serve the goal of ascertaining truth? Federico's art tells stories in a grotesque, carnivalesque setting. With balloons, bottles of alcohol, and riders, they question official American historiography. The curator Larry Ossei-Mensah speaks of Solmi's "social surrealist approach." Official history, as found in textbooks used in schools, for a long time it was written by the victors, manipulating, lying, and furnished with false heroism. Atrocities like the genocide of the native Americans or false facts, like the ones propagated about the Iraq war, have been sugarcoated and presented as a victor's narrative for too long. Books like* Lies My Teacher Told Me* – *Everything Your American History Textbook Got Wrong* and *A People's History of the United States* by Howard Zinn have strongly influenced Solmi. In the latter book, Zinn writes about the dominance of elites, class struggles, the invasion of white Europeans and the displacement of indigenous peoples. Federico Solmi tells new histories, tries to correct and get closer to the truth. To this end, he employs storytelling; he is a director, painter, dramaturge, stage and costume designer all at once. Solmi's worlds captivate us with a unique satirical surreality. They are dreams, nightmares, daydreams, tragic, funny, frightening, festive, threatening. Federico Solmi's art is in truth an art of narration. There is hardly anyone who can combine painting and VR as skillfully as he does.
His figures wear exaggerated costumes, they move slowly and like puppets, their bodies seem to swing, gather momentum, and then circle back. Their skin does not wear any theater makeup, but paint brush gestures; their faces are not masks, but painting. Sometimes they are drunk, sometimes lost. Like in expressionist films, surroundings and figures merge into a "Gesamtkunstwerk". Reality is represented through alienation. Solmi's surrealism creates exactly the goosebump horror that doesn't come from the front, but from the side—little fingertips that touch you suddenly and make your body hair stand up. That there is truth in this is revealed slowly, it is first sensed, and then becomes a certainty, when the discomfort conquers the stomach and victoriously plants its flag there. Leaders and presidents wave and present themselves, they prance about and in so doing reveal themselves as virtual hollow bodies that were enveloped in paint. In their pride they make fools of themselves, authorities lose their reputation. The more power they believe they have, the more they become a satirical questioning of their own existence. Their smiles are grotesque grimaces, and in all the colorful festiveness, the horror resonates in the rhythmic military marches. That which looks like official ceremonies of state exhausts itself in an after- party delirium in which the supposed heroes fall. Their mechanic radius of movement becomes a treadmill.
Federico Solmi, The Machiavellian Ones, 2019, Acrylic, gold leaf on deformed plexiglass, LED screens, video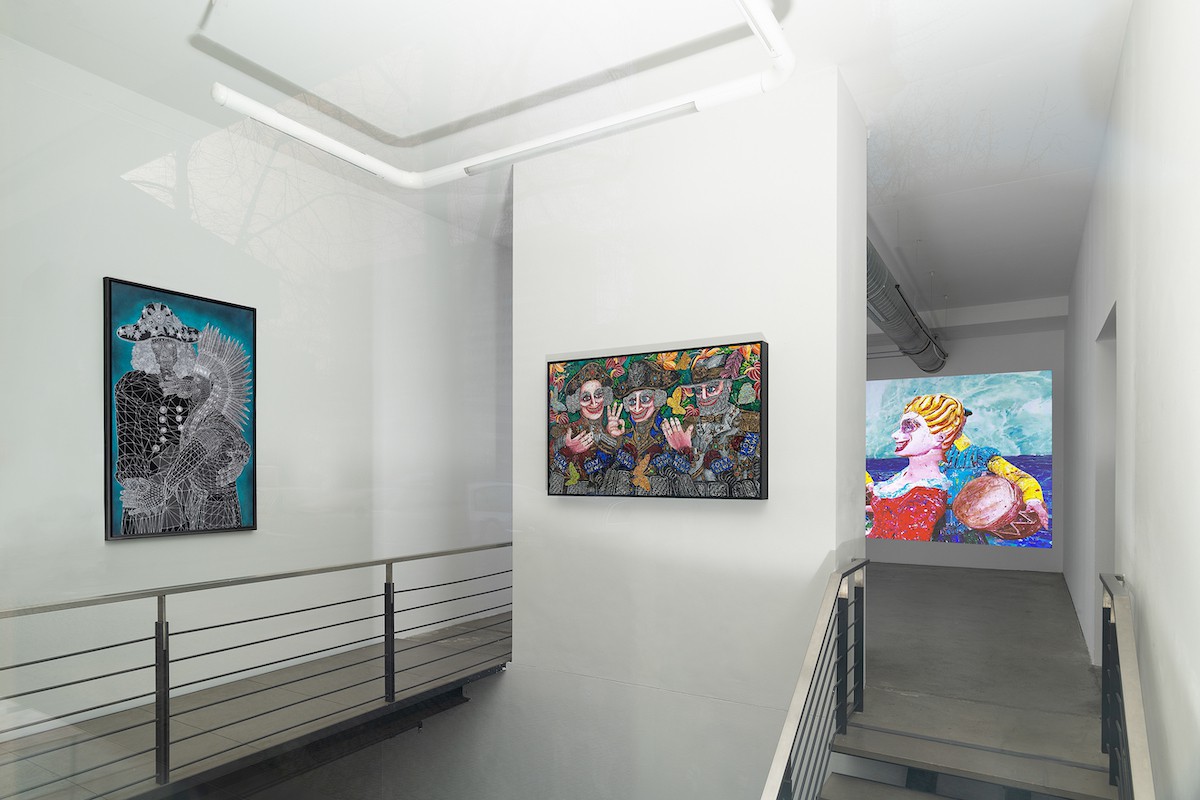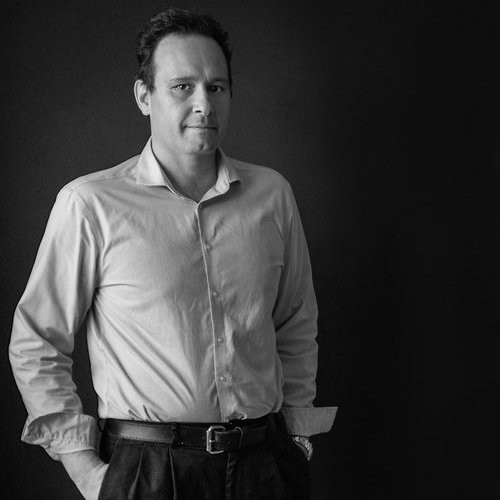 Federico Solmi was born in Bologna, Italy in 1973. Since 1999 he has lived and worked in New York.
Solmi's work utilizes bright colors and a satirical aesthetic to portray a dystopian vision of our present-day society. His exhibitions often feature articulate installations composed of a variety of media including virtual reality experiences, video installation, painting, drawing, and sculpture.